NCSAA Soccer and Volleyball Championships
October 28-29, 2016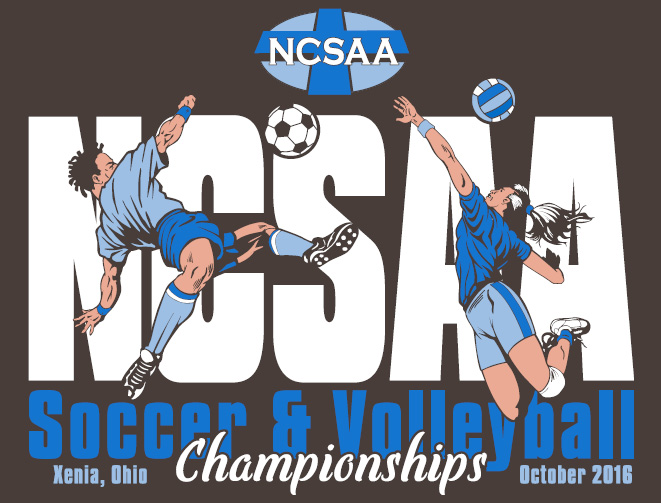 Athletes in Action Sports Complex (Xenia, OH)
Cedarville University (Cedarville, OH)
All soccer games will be played at the Athletes in Action Sports Complex (1197 South Detroit Street, Xenia, OH 45385).

All volleyball matches will be played at Cedarville University (251 N. Main Street, Cedarville, OH 45314).
Check back here daily throughout the event, as scores will be updated throughout each day.
For photos from the tournament, CLICK HERE.

Boys' Varsity Soccer:
Red Group

Blue Group

Gold Group

Christian Community (OH)
New Jerusalem Baptist (IL)
Our Savior New American (NY)
Community Christian (IL)
Monclova Christian (OH)
Plants and Pillars (PA)
Bethel Christian (PA)
Portersville Christian (PA)
Rochester Rapids (NY)

Friday, October 28:
(Group Play Games)

10:00 AM - Game 1 - Red Group - New Jerusalem Baptist (IL) def. Our Savior New American (NY) - 1-0 (Forfeit)
10:00 AM - Game 2 - Blue Group - Community Christian (IL) def. Monclova Christian (OH) - 3-1
10:00 AM - Game 3 - Gold Group - Rochester Rapids (NY) def. Portersville Christian (PA) - 4-0

2:30 PM - Game 4 - Red Group - Our Savior New American (NY) def. Christian Community (OH) - 5-4
2:30 PM - Game 5 - Blue Group - Community Christian (IL) def. Plants and Pillars (PA) - 4-0
2:30 PM - Game 6 - Gold Group - Portersville Christian (PA) def. Bethel Christian (PA) - 6-2

7:00 PM - Game 7 - Red Group - New Jerusalem Baptist (IL) def. Christian Community (OH) - 13-0
7:00 PM - Game 8 - Blue Group - Monclova Christian (OH) def. Plants and Pillars (PA) - 6-2
7:00 PM - Game 9 - Gold Group - Rochester Rapids (NY) def. Bethel Christian (PA) - 8-1

Saturday, October 29:

(Divisional Games)
10:00 AM - Game 10 - Division 1 Semifinal - Field 1
Rochester Rapids (NY) def. Community Christian (IL) - 3-1
10:00 AM - Game 11- Division 2 Semifinal - Field 2
Portersville Christian (PA) def. Our Savior New American (NY) - 3-1
10:00 AM - Game 12- Division 3 Semifinal - Field 3
Christian Community (OH) def. Bethel Christian (PA) - 4-1

2:30 PM - Division 1 Championship Game - Field 1
New Jerusalem Baptist (IL) def. Rochester Rapids (NY) - 4-3 (OT)
2:30 PM - Division 2 Championship Game - Field 2
Monclova Christian (OH) def. Portersville Christian (PA) - 2-0
2:30 PM - Division 3 Championship Game - Field 3
Christian Community (OH) def. Plants and Pillars (PA) - 3-0

Boys' Varsity Soccer All-Tournament Team:

Bethel Christian (PA) - Jarret Simmons (Junior - Forward / Midfield)
Christian Community (OH) - Trevor Doeringer (Junior - Midfield), Zeke Moorman (Junior - GK)
Community Christian (IL) - Eric Anderson (Junior), Joe Baldridge (Senior)
Monclova Christian (OH) - Tyler Patterson (Senior - Defender), Stephen Goniea (Senior - Defender)
New Jerusalem Baptist (IL) - Aldo Corzantez (Senior - Midfield), Danny Guzman (Senior - Forward), Anthony Morales (Senior - Midfield)
Our Savior New American (NY) - Johanz Tusiime (Senior - Midfield)
Plants and Pillars (PA) - Luke Miller (Senior - Midfield)
Portersville Christian (PA) - Justin Harbison (Senior - Midfield)
Rochester Rapids (NY) - Reegan Hanley (Senior - Forward), Ving Salisbury (Junior - Forward)
Girls' Varsity Volleyball:
Red Pool

Blue Pool

Christian Community (OH)
Faith Christian (WV)
Golden Angels Homeschool (OH)
Victory Christian (IN)
Arundel Christian (MD)
Monclova Christian (OH)
Mount Airy Christian (MD)
Our Savior New American (NY)
Wood County Christian (WV)

Friday, October 28:

(Pool Play - Best-of-Three Matches)
10:00 AM - Red Pool - Victory Christian (IN) def. Faith Christian (WV) - 25-11, 25-9
10:00 AM - Red Pool - Christian Community (OH) def. Golden Angels Homeschool (OH) - 25-15, 25-18
10:00 AM - Blue Pool - Wood County Christian (WV) def. Wood County Christian (WV) - 25-11, 25-9
10:00 AM - Blue Pool - Mount Airy Christian (MD) def. Arundel Christian (MD) - 25-4, 25-9

11:00 AM - Red Pool - Victory Christian (IN) def. Golden Angels Homeschool (OH) - 25-7, 25-12
11:00 AM - Blue Pool - Mount Airy Christian (MD) def. Our Savior New American (NY) - 25-0, 25-0 (Forfeit)
11:00 AM - Blue Pool - Monclova Christian (OH) def. Arundel Christian (MD) - 25-11, 25-15

12:00 PM - Red Pool - Christian Community (OH) def. Faith Christian (WV) - 25-10, 25-16
12:00 PM - Blue Pool - Wood County Christian (WV) def. Our Savior New American (NY) - 25-14, 25-9
12:00 PM - Blue Pool - Mount Airy Christian (MD) def. Monclova Christian (OH) - 25-7, 25-4

1:00 PM - Red Pool - Victory Christian (IN) def. Christian Community (OH) - 25-18, 25-12
1:00 PM - Blue Pool - Wood County Christian (WV) def. Arundel Christian (MD) - 25-5, 25-7
1:00 PM - Blue Pool - Monclova Christian (OH) def. Our Savior New American (NY) - 25-15, 25-15

2:00 PM - Red Pool - Golden Angels Homeschool (OH) def. Faith Christian (WV) - 21-25, 25-16, 15-8
2:00 PM - Blue Pool - Mount Airy Christian (MD) vs. Wood County Christian (WV) - 25-11, 25-22
2:00 PM - Blue Pool - Our Savior New American (NY) def. Arundel Christian (MD) - 25-14, 25-20

Saturday, October 29:

(Divisional Play - Best-of-Three Matches)
10:00 AM - Match 1 - Division 2 Quarterfinal - Court 1
Faith Christian (WV) def. Arundel Christian (MD) - 25-4, 25-2
10:00 AM - Match 2 - Division 1 Semifinal - Court 2
Victory Christian (IN) def. Wood County Christian (WV) - 25-4, 25-22
10:00 AM - Match 3 - Division 1 Semifinal - Court 3
Mount Airy Christian (MD) vs. Christian Community (OH) - 25-21, 12-25, 15-5

11:30 AM - Match 4 - Division 2 Semifinal - Court 2
Golden Angels Homeschool (OH) vs. Our Savior New American (NY) - 19-25, 25-9, 15-7
11:30 AM - Match 5 - Division 2 Semifinal - Court 3
Faith Christian (WV) def. Monclova Christian (OH) - 25-17, 25-15
(Championship Matches)

1:00 PM - Match 6 - Division 1 Championship Match - Court 1
Victory Christian (IN) def. Mount Airy Christian (MD) - 25-17, 25-17
1:00 PM - Match 7 - Division 1 Third-Place Match - Court 2
Wood County Christian (WV) def. Christian Community (OH) - 25-20, 10-25, 15-6
1:00 PM - Match 8 - Division 2 - Court 3
Our Savior New American (NY) def. Arundel Christian (MD) - 25-15, 25-16

2:30 PM - Match 9 - Division 2 Championship Match - Court 2
Golden Angels Homeschool (OH) def. Faith Christian (WV) - 14-25, 25-18, 15-12
2:30 PM - Match 10 - Division 2 Third-Place Match - Court 3
Monclova Christian (OH) def. Our Savior New American (NY) - 25-18, 16-25, 15-11

Girls' Varsity Volleyball All-Tournament Team:

Arundel Christian (MD) - Quinnlan Battieste (Senior - Setter)
Christian Community (OH) - Anna Bennett (Senior - Libero), Lydia Solak (Sophomore - Middle Hitter)
Faith Christian (WV) - Abigail Adams (Freshman - Middle Hitter), Abby Michael (Senior - Outside Hitter)
Dayton Golden Angels (OH) - Hannah Musselman (Senior - Setter), Skylar Throop (Sophomore - Setter)
Monclova Christian (OH) - Grace Iffland (Senior - Libero)
Mount Airy Christian (MD) - Nora Doxzen (Junior - Setter), Lydia Young (Senior - Outside Hitter)
Our Savior New American (NY) - Faith Garnier (Junior - Setter)
Victory Christian (IN) - Taylor Cross (Senior - Middle Hitter), Leighton Huber (Junior - Middle Hitter), Autumn Thomae (Junior - Outside Hitter)
Wood County Christian (WV) - Sarah Barnes (Senior - Middle Hitter), Olivia Eckels (Senior - Setter)


You can view photos and additional details from the event on the NCSAA Facebook page, by clicking on the Facebook logo below: