NCSAA Soccer and Volleyball Championships
October 29-30, 2015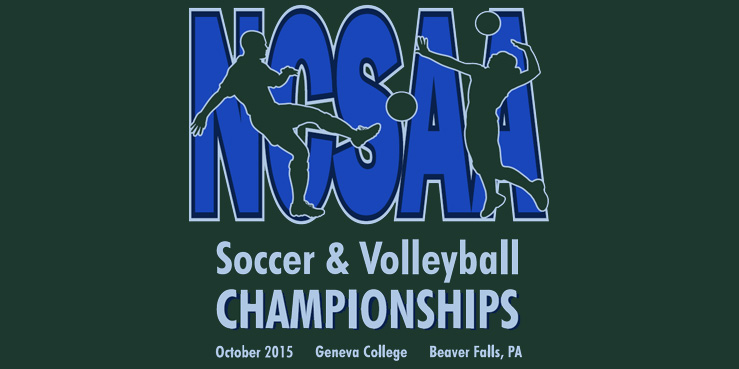 Geneva College (Beaver Falls, PA)
PLEASE NOTE that various soccer games (on Friday) will be played at North Boundary Park and / or Green Valley Park. Addresses / directions to the fields can be found by CLICKING HERE.
Check back here daily throughout the event, as scores will be updated throughout each day.
For photos from the tournament, CLICK HERE.

Boys' Varsity Soccer:
Thursday, October 29:
(Opening Round Games)

9:00 AM - Game 1 - New Jerusalem Baptist (IL) def. North Hills Christian (NC) - 7-1
10:20 AM - Game 2 - Rochester Rapids (NY) def. Calvary Baptist Christian (PA) - 2-0
11:40 AM - Game 3 - The King's Christian (NJ) def. First Baptist Christian (PA) - 5-1
(Forfeited Game) - Game 4 - Cumberland Valley Christian (PA) def. Riverdale Baptist (MD) - FORFEIT
1:00 PM - Game 5 - Northumberland Christian (PA) def. Monclova Christian (OH) - 2-0
7:15 PM - Game 6 - Cross Lanes Christian (WV) def. Portersville Christian (PA) - 4-0

(Divisional Games)

8:25 PM - Game 7 - Division 3 Semifinal - Geneva College
North Hills Christian (NC) def. Calvary Baptist Christian (PA) - 0-0 (OT) - North Hills won, 3-1, in a shootout
9:35 PM - Game 8 - Division 3 Semifinal - Geneva College
First Baptist Christian (PA) def. Riverdale Baptist (MD) - FORFEIT
Friday, October 30:
(Divisional Games)
8:30 AM - Game 9 - Division 1 Semifinal
New Jerusalem Baptist (IL) def. Northumberland Christian (PA) - 7-1
8:30 AM - Game 10 - Division 1 Semifinal
Cross Lanes Christian (WV) def. The King's Christian (NJ) - 6-0
8:30 AM - Game 11 - Division 2 Semifinal
Rochester Rapids (NY) def. Monclova Christian (OH) - 4-0
8:30 AM - Game 12 - Division 2 Semifinal
Cumberland Valley Christian (PA) def. Portersville Christian (PA) - 6-4

(Championship Games)
10:15 AM - Division 3 Championship Game
North Hills Christian (NC) def. First Baptist Christian (PA) - 3-2
10:15 AM - Division 3 Third-Place Game
Calvary Baptist Christian (PA) def. Riverdale Baptist (MD) - FORFEIT
12:00 PM - Division 1 Championship Game
Cross Lanes Christian (WV) def. New Jerusalem Baptist (IL) - 5-4
12:00 PM - Division 1 Third-Place Game
The King's Christian (NJ) def. Northumberland Christian (PA) - 3-1
1:45 PM - Division 2 Championship Game
Rochester Rapids (NY) def. Cumberland Valley Christian (PA) - 8-1
1:45 PM - Division 2 Third-Place Game
Portersville Christian (PA) def. Monclova Christian (OH) - 2-0

Boys' Varsity Soccer All-Tournament Team:
Calvary Baptist Christian (PA) - Matthew Shaffer (Sophomore - GK)
Cross Lanes Christian (WV) - Kyle Davis (Senior - Fwd), Justin Kendrick (Junior - Def), Ben O'Dell (Senior - Mid)
Cumberland Valley Christian (PA) - Sterling Bard (Junior), Soto Ono (Sophomore)
First Baptist Christian (PA) - Trevor Barnhart (Senior - Mid)
North Hills Christian (NC) - Collin Lewis (Junior - GK), Colin Turner (Senior - Fwd / Def)
Northumberland Christian (PA) - Andrew Groninger (Junior - Mid), Hugh Hayner (Senior - Mid)
Portersville Christian (PA) - Alex Slater (Senior - Fwd)
Rochester Rapids (NY) - Reegan Hanley (Junior - Fwd), Ving Salisbury (Sophomore - Mid)
The King's Christian (NJ) - Ryan Anderson (Junior - Fwd), Josh Meyers (Senior - Mid)
Girls' Varsity Volleyball:
Red Pool

Blue Pool

Abundant Life Academy (NJ)
Calvary Baptist Christian (PA)
Calvary Christian (DE)
Monclova Christian (OH)
Cross Lanes Christian (WV)
Fairfax Homeschool (VA)
North Hills Christian (NC)
Portersville Christian (PA)

Thursday, October 29:

(Pool Play - Best-of-Three Matches)
10:00 AM - Blue Pool - Cross Lanes Christian (WV) def. Portersville Christian (PA) - 26-24, 25-10
10:00 AM - Blue Pool - Fairfax Homeschool (VA) def. North Hills Christian (NC) - 25-13, 25-12
11:00 AM - Red Pool - Calvary Baptist Christian (PA) def. Abundant Life Academy (NJ) - 25-17, 25-9
11:00 AM - Red Pool - Calvary Christian (DE) def. Monclova Christian (OH) - 25-9, 25-20

12:00 PM - Blue Pool - Fairfax Homeschool (VA) def. Cross Lanes Christian (VA) - 25-16, 25-15
12:00 PM - Blue Pool - North Hills Christian (NC) def. Portersville Christian (PA) - 25-9, 25-16
1:00 PM - Red Pool - Calvary Baptist Christian (PA) def. Calvary Christian (DE) - 25-21, 14-25, 15-4
1:00 PM - Red Pool - Monclova Christian (OH) def. Abundant Life Academy (NJ) - 25-15, 25-19

2:00 PM - Blue Pool - Cross Lanes Christian (WV) def. North Hills Christian (NC) - 23-25, 25-19, 15-9
2:00 PM - Blue Pool - Fairfax Homeschool (VA) def. Portersville Christian (PA) - 25-10, 25-10
3:00 PM - Red Pool - Calvary Baptist Christian (PA) def. Monclova Christian (OH) - 25-20, 25-18
3:00 PM - Red Pool - Calvary Christian (DE) def. Abundant Life Academy (NJ) - 25-19, 25-3
Friday, October 30:

(Divisional Play - Best-of-Three Matches)
9:00 AM - Match 1 - Division 1 Semifinal
Calvary Baptist Christian (PA) def. Cross Lanes Christian (WV) - 27-25, 25-23
9:00 AM - Match 2 - Division 1 Semifinal
Fairfax Homeschool (VA) def. Calvary Christian (DE) - 25-11, 25-23
10:00 AM - Match 3 - Division 2 Semifinal
Monclova Christian (OH) def. Portersville Christian (PA) - 25-18, 25-18
10:00 AM - Match 4 - Division 2 Semifinal
North Hills Christian (NC) def. Abundant Life Academy (NJ) - 25-8, 25-20

(Championship Matches)
11:00 AM - Division 1 Championship Match
Fairfax Homeschool (VA) def. Calvary Baptist Christian (PA) - 25-18, 25-22, 25-12
11:00 AM - Division 1 Third-Place Match
Calvary Christian (DE) def. Cross Lanes Christian (WV)
1:00 PM - Division 2 Championship Match
North Hills Christian (NC) def. Monclova Christian (OH) - 25-11, 25-14, 23-25, 25-17
1:00 PM - Division 2 Third-Place Match
Abundant Life Academy (NJ) def. Portersville Christian (PA)
Girls' Varsity Volleyball All-Tournament Team:
Abundant Life Academy (NJ) - Miranda Richardson (Senior - S)
Calvary Baptist Christian (PA) - Tabbie Eichler (Senior - S), Brooke Lewandowski (Senior - MH)
Calvary Christian (DE) - Rachel Thomson (Senior - MH / MB), Katie Torsky (Senior - MH)
Cross Lanes Christian (WV) - Catherine Morris (Junior - MH), Haley Stepp (Sophomore - OH)
Fairfax Homeschool (VA) - Christina Ciola (Junior - OH), Eve Fowler (Juinor - S), Brianna Williams (Senior - OH)
Monclova Christian (OH) - MacKenzie Simon (Senior - OH / DS)
North Hills Christian (NC) - Sieria Eagle (Senior - MH), Dajah Glenn (Junior - S)
Portersville Christian (PA) - Kristen Coomber (Senior - OH)

You can view photos and additional details from the event on the NCSAA Facebook page, by clicking on the Facebook logo below: